If you love jewelry, there's a good chance you have a handful of go-to pieces in your collection. These staples are often characterized by favoritism, versatility or sentiment. It's easy to get attached to jewelry overtime, and feel as though something is missing when you're not wearing everyday favorites. But as time passes, and new memories are made, sometimes style and sentiment evolve.
If you're ready for some new eye candy, check out these gorgeous recommendations from our collection.
HOOPS
Everyone loves a good pair of hoop earrings. In fact, everyone needs a good pair. Hoops have evolved into one of the most versatile accessories of 2021. Whether you're rocking a cocktail dress or leggings, hoops can add a burst of confidence to any outfit. Our go-to pair of hoops is from the Carla / Nancy B jewelry collection. These 1.5 x 30mm 14kg hoops are available in white gold, rose gold and yellow gold.
GOLD CHAINS
Another trend that has taken the fashion industry by storm is gold chain jewelry. Both men and women alike have started sporting gold chain necklaces with casualwear…and yes, we love it. A massive variety of chain styles have hit the market—both thin and chunky, long and short. And now, the trend has expanded into gold chain bracelets and rings. While many brands offer chain jewelry, it's hard to outshine our estate collection. These high-quality pieces provide that perfect amount of weight to stay in place and tie your look together. We have several variations of length available (from 16" to 20") that can be worn long or doubled up.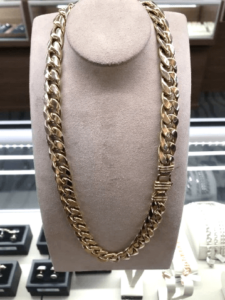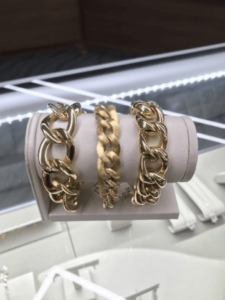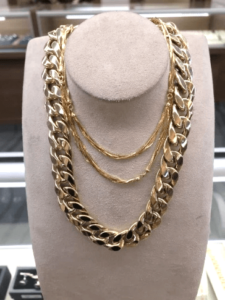 If you're looking for something more subtle, we suggest this chain bracelet by Peter Storm. While it appears simple, the diamond-cut edged links take it to the next level. Available in white, rose, black, and yellow (as pictured below).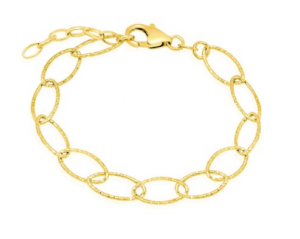 DIAMONDS
Diamond jewelry is a no-brainer. Dress it up. Dress it down. Frankly, it doesn't matter—diamonds are diamonds—they will always steal the show. And we have some gorgeous selections you won't want to miss.
This diamond bracelet by JB Star is everything. Thirty-five round diamonds in a platinum prong setting—need we say more? With a total diamond weight of 13.55 carats, you'll never want to take this bracelet off.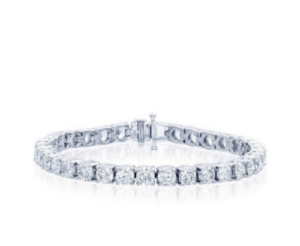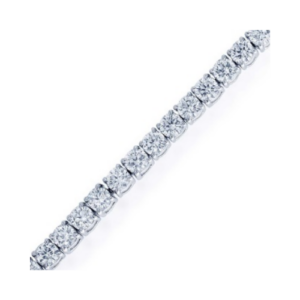 Other coveted pieces include LŪVENTE's 14k white gold Diamond Criss Cross Ring and Diamond Disc Pendant Necklace. These accessories never fail to add that perfect glam to everyday style.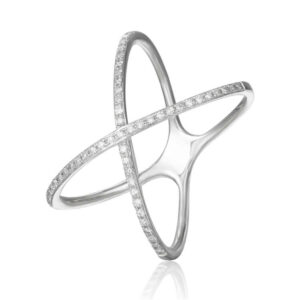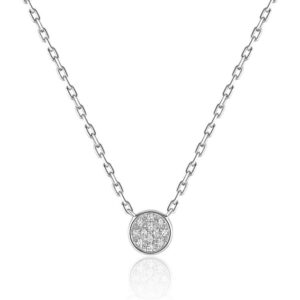 CROSSES
When it comes to sentiment, cross jewelry is a popular keepsake. But why settle for sterling silver when you can embellish with diamonds? This .26 carat Diamond Cross Pendant by Frederic Sage is the perfect addition to your everyday look. In addition, the white gold chain creates a good base for layering.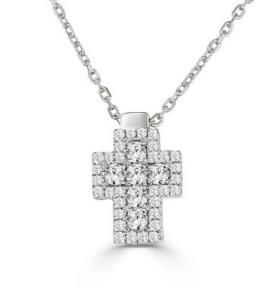 If you prefer simplistic cross jewelry, we recommend LŪVENTE's 14k white gold bracelet and ring. We simply adore these cross accents beautifully lined with diamonds.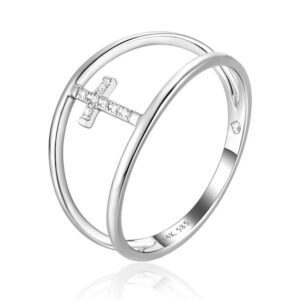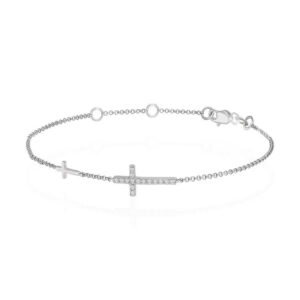 JEWELRY STORAGE / TRAVEL CASE
And finally, we've saved one of the best for last—the WOLF Zoe Portfolio. This is not your typical jewelry storage / travel case. WOLF produces top-of-the-line cases for luxury watches and jewelry. Their patented technology, LusterLoc™ lining, absorbs the hostile gases known to cause tarnishing in jewelry. Under typical conditions, their cases can prevent tarnishing for up to 35 years. High-quality storage is not just WOLF's specialty—it's all they do.
The Zoe Portfolio is our go-to product from WOLF's line for a variety of reasons. We adore the detailed stitching and velvet exterior, which is available in three colors—forest green, indigo, or mink (as pictured below). Another defining feature is the size (10.5"L x 7.25"W x 1.5"H), which allows for decent storage without taking up hardly any space. However, our favorite characteristic is the functionality. This slim zip-case has one large zip pocket (great for bangles), one small zip pocket (ideal for hoops), two snappable ring rolls (can store 20+ rings), four necklace holders (tangle-free design), and can hold 18 pairs of earrings. Plus, it comes with a matching removable mirror. This is truly the perfect jewelry case for travel.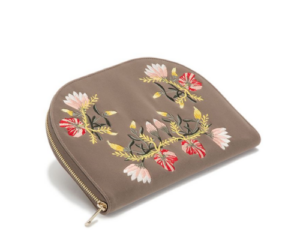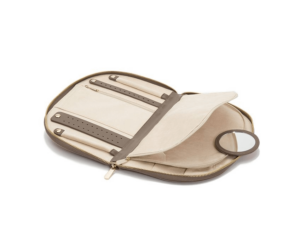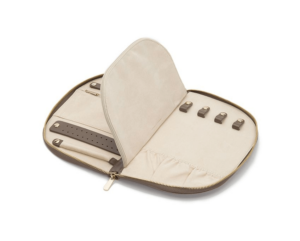 Are you inspired? We certainly are. And it doesn't stop there—come visit 2850 East Battlefield and join us in drooling over hundreds of treasures from countless collections. We promise you'll find something perfect—and if it's not in store, dream it up for our in-house jeweler to create custom. Whatever the occasion, make it a #MaxonMoment at Maxon Fine Jewelry.