We experience many thrilling moments in life. Whether these instances are small, large, individual or shared—all are unique. It may go without saying, but we believe one of the most significant moments is your wedding proposal.
If you're the one proposing, it's sheer excitement, nerves and adrenalin mixed with the realization that you've found the one. If you're the one being proposed to, it's the act of surprise, mixed with the enchanting satisfaction of your loved saying, "I can't do life without you."
We dream about electrifying moments like these. However, to say all occasions happen without planning would be a lie. Where will you find a ring? What is the perfect design? How will you know it fits? This is where Maxon Fine Jewelry comes in, and we promise there are no bad questions.
To help you get started, we've compiled a list of top-rated bridal brands and hand-selected a piece from each line for inspiration.
SYLVIE
The Sylvie collection remains on the cutting edge of modern design. This brand offers a vast selection of simplistic, clean-cut designs that beautifully emphasize the center diamond with a thin band. And while this style is a popular choice, the collection doesn't stop there. You'll discover intricate creativity and elegance when exploring the full assortment of engagement rings.
The Oval Cut Classic Engagement Ring (Maryam) is a favorite from the Sylvie collection. It features a thin band of prong-set diamonds weighing 0.37 carats without the center diamond. Sitting atop the band (in a prong-setting) is a gorgeous 2-carat oval-cut diamond. Without a doubt, this ring is a timeless show-stopper.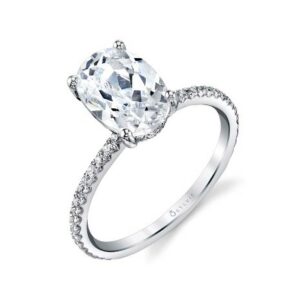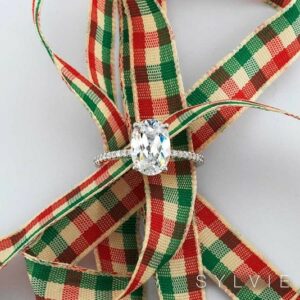 VERRAGIO
It's all in the details, and Verragio is king of detail. Verragio's elaborate design work is fluid throughout all four collections: Parisian, Venetian, Couture, Insignia and Renaissance. These engagement rings and wedding bands are truly extraordinary, so it was no easy task narrowing down an example to feature.
Our Verragio spotlight emerges from the Parisian collection. This engagement ring features 0.35 carats of round brilliant-cut diamonds intertwining on the band. The diamonds are complemented by rose gold wraps, which all come together to enhance a round center diamond.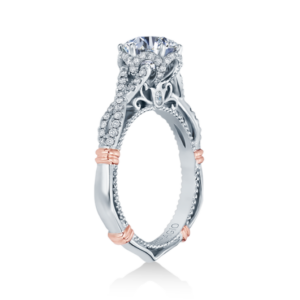 CROWN RING
For men's wedding bands, we suggest exploring the Crown Ring / Bleu Royale line. This brand excels in providing the most comprehensive collection of styles—from basic to extravagant. If you prefer to stick with the silver or gold tried and true option, consider a textured finish like matte, rope, hammered or carved. If you're looking for something more out-of-the-box, spice it up with diamonds, gemstones, mixed finishes or multiple colors. Rings are crafted from precious metals available in a large variety of colors.

One of our favorite selections from Crown Ring is the Bleu Royale Yellow Gold Wedding Band with a Hammered White Gold Center & Miligrain detailing.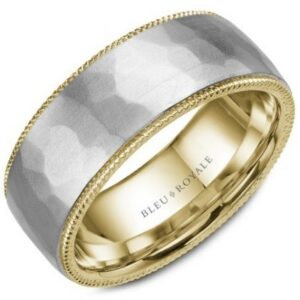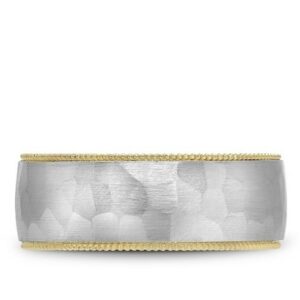 PETER STORM
Peter Storm has mastered the art of building from traditional design to create the unexpected. Designs are categorized by Cinderella, Clásico, Entrée, Diverse Halo, Geometry, Large Center Halo, Naked Diamonds and Opulence. These exquisite collections truly have something for everyone.
Although Peter Storm offers many contemporary designs, we would like to feature a classic. The Solitaire Diamond Engagement Ring is a timeless choice for your bride-to-be. This twist on a traditional solitaire features three rows of diamonds on the band, and a dip of diamonds on each side of the center prong. The ideal center stone for the product is listed as 1.5 – 3 carats.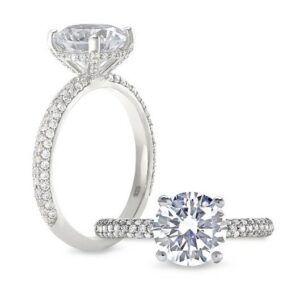 JEWELS BY STAR
Nothing says "go big or go home" like a JB Star engagement ring. This collection is designed to be unique, glamorous and eye-catching. Every item is handmade from elite materials such platinum, 18kt yellow gold and 18K pink gold. If you want a statement piece – look no further.
Rather than featuring a traditional wedding ring, we've chosen to spotlight the Diamond Eternity Band from JB Star's collection. Handcrafted in pure platinum, this stunning eternity band yields 16 GIA certified emerald-cut diamonds in a shared prong setting. Altogether, the total diamond weight equals 11.45 carats.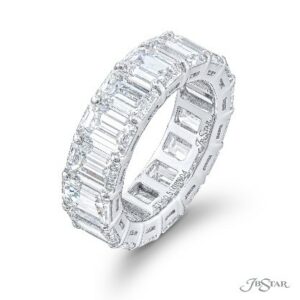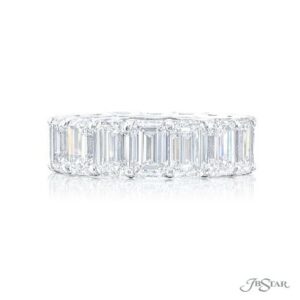 FREDERIC SAGE
Jewelry designed by Frederic Sage has a romantic flair, and color is always welcome. The brand utilizes natural shell, diamonds and precious gemstones to create jewelry described as "a refreshing departure from typical design." Collections are genuinely crafted to cater to all ages, and each piece radiates sentiment.
This Gold Band Diamond Engagement Ring is a great example of simple color contrast, and has a total diamond weight or .33 carats without the center diamond. The ring's breathtaking detail and craftmanship accentuates the center stone, so it's certain to turn heads.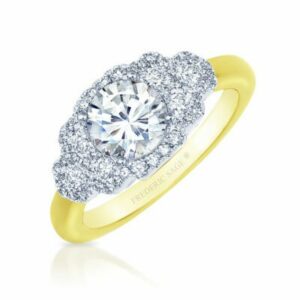 We hope this list of 2021 favorites sparked some genuine inspiration. But if not, don't fret! Our selection of fine jewelry is stacked with top-rated brands and countless styles for all preferences. Not to mention, we offer a unique collection of estate jewelry with pieces from multiple eras. And if you're looking for something extra special, our in-house jeweler can help you design a completely custom ring. Visit us at Maxon Fine Jewelry, and never settle for less than perfect.