Let's hear it for the dads. The man who took time to teach you how to change a tire or bait a fishing hook. The man who walked you down the aisle—or who will walk you down the aisle some happy day in the future. While you're grateful every day of the year for all the time and energy he has devoted to you, Father's Day is a special day set aside just for him, and Maxon Fine Jewelry is here to help you ensure it is one neither one of you will ever forget with a Father's Day gift guide.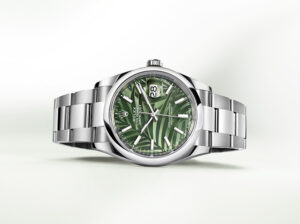 Create a Maxon Moment
That's what Maxon is all about—creating moments that become treasured memories and finding ways to commemorate those moments, sacrifices, and gestures that become a part of who we are. We know Dad is central to so many of these, from encouraging you to take your first steps to chasing his grandkids around the lawn.
Since the greatest gift a dad can give his child is his time, one of the best ways to honor and recognize that gift is with a watch from Tag Heuer. These watches serve a dual function—one being entirely practical (and you might even be able to get back at him for those times he told you it was, "Time to get a watch." Really, he'll have to just answer you after you point out the watch you got was given to him).
The other being symbolic—a recognition of all the time he has given you over the years and will undoubtedly continue to give for many years to come. It's also a reflection of the impact he had on your life, as your achievements and successes are irrevocably tied to how you were raised.
Father's Day Gift Ideas
But maybe Dad isn't a watch guy. Or maybe he's not the only father you have to honor this Father's Day. Maxon Fine Jewelry has gift options for all the important men in your life—those who acted as parents or guides when they had no reason to do so. Whether your appreciation is best expressed through a precious ring, a gold necklace, or a custom piece made specifically with them in mind, we will help you find the gift that best summarizes your love and appreciation.
Maxon Fine Jewelry is home to some of the world's most prestigious brands, including Tag Heuer and Rolex watches. We also carry exquisite options in men's jewelry, including gold necklaces in popular styles, such as the beautiful mariner-link, wheat-link, and Italian men's gold chains.
Sometimes it's hard to know how to best put your thoughts, love, and appreciation into words, especially when it comes to honoring someone who has made such a tremendous, long-lasting, and continual impact on your life. We absolutely love gift-giving at Maxon Fine Jewelry, and part of the process is getting to know your loved one through you. We are eager for the opportunity to help you find the perfect way to celebrate Dad this year.
And to all the dads, granddads, and men who have stepped into the role of "Dad" over the years—our sincerest thanks and deepest gratitude for all you do.