Jessica and Kendra recently returned from a week in Las Vegas attending Luxury, JCK, and Couture 2023. At these events, they hand-selected some of the most beautiful pieces for Maxon and your next #MaxonMoment!
Exclusive Luxury Event
Jessica and Kendra attended the exclusive Luxury event held at The Venetian Resort in Las Vegas. This invitation-only event attracts the industry's most prestigious and affluent jewelers, ensuring a gathering of influential individuals.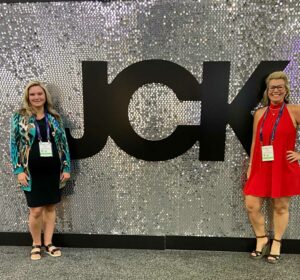 They were able to hand-select pieces from the elegant and timeless collections of fine jewelry from renowned manufacturers and designer brands.
Keynote speakers included Rudy Ruettiger from the Blockbuster film RUDY and Dominique Dawes who was a three-time gymnastics Olympic gold medalist.
New Inventory from Exclusive Event
Jessica and Kendra had the incredible opportunity to attend both the esteemed COUTURE and JCK events. Here, they were immersed in a world of exquisite designs from highly sought-after designers and brands. These events served as a platform for brands to unveil their latest collections and cutting-edge marketing initiatives. Each offered a sneak peek into the future trends that will captivate jewelry and timepiece enthusiasts.
With an eye for perfection, Jessica and Kendra hand-selected the most exceptional pieces to bring into our store. Ensuring that soon you will have access to the most coveted and sought-after jewelry creations. Stay tuned for the arrival of these extraordinary pieces that will soon grace our shelves.
We are excited to announce that new arrivals are making their way to our store! Stay updated by following us on social media, where we will be showcasing these exquisite pieces. While we share glimpses online, be sure to visit our store in person to browse through the complete range of items in our new collections.
Don't miss out on the opportunity to see these exquisite pieces up close and find the perfect addition to your collection. See you soon!