Over the years, the team at Maxon Fine Jewelry has had the unique and humbling privilege of being a part of anniversary celebrations across the Ozarks. Milestones are important to recognize, so we wanted to take a moment to give our thanks to the customers who helped us make it to fifty years.
A Brief History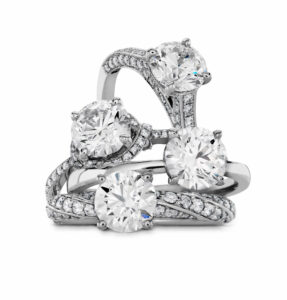 Maxon Fine Jewelry was founded in 1972 by Joe Maxon, who oversaw its growth for the first twenty-two years of its life. Since 1994, Maxon has been co-owned by Rick and Jane McElvaine, both Certified Gemologists through the American Gem Society and Graduate Gemologists through the Gemological Institute of America.
Over their tenure as Maxon's owners, Rick and Jane have expanded the lines and services offered by Maxon to better serve customers. From helping nervous grooms select the engagement ring guaranteed to make their bride say "I do" to ensuring a couple's golden anniversary is just as memorable as the years that built them, their passion has been creating the perfect centerpieces for life's most important milestone moments.
Maxon Fine Jewelry Today

Today, we specialize in everything from engagement rings to estate jewelry, everyday pieces and those that were made with special occasions in mind. Over the years, we have added several exclusive lines, including Jude Frances, Vahan, and Rolex, jewelry repair, and incorporated custom jewelry design that allows creations of your imagination to take shape.
What's Next
We have been honored to be a part of our customers' stories, and even more so that you have been part of ours. For our golden anniversary, Maxon Fine Jewelry thanks those who have helped us see this important milestone and invite you to join us as we embark on the next fifty years.