Sometimes it starts with an idea. A gift that isn't just given but reaches your loved one on a nearly transcendental level. A design that captures the essence of who they are or represents a meaningful part of their personal story—something that tells them exactly how well you know and love them without using words at all.
Personal Christmas Gifts
You could have a vague concept in mind, one ready to be molded and discovered in any of the pieces you find at Maxon Fine Jewelry…or it could be something so singular, so completely unique, the only place it resides right now is your imagination.
Either way, Maxon Fine Jewelry is the premier destination for the season's perfect gifts. And if you have something so specific in mind, you're sure that no store will actually have it, now is the perfect time to commission your custom jewelry piece.
Custom Jewelry Services
Our process is simple. We start with a conversation so we can learn as much about your loved one as possible, as well as what you hope to convey with the piece you give them.
You might have a sketch or a photo as a launch point, a Pinterest board for us to peruse, or nothing at all except the picture in your mind. Our experienced design professionals will work with you to bring your idea to life, with realistic 3-D renderings so you can see exactly what your gift will look like.
Also, there's no rule that says you need to start from scratch! Perhaps there's a cherished family heirloom that has recently fallen into your hands, or a beloved family piece that is no longer viable in its current condition—Maxon Fine Jewelry can build off any existing piece to restore it or bring it to life in a new form.
It all starts with a conversation! Visit Maxon Fine Jewelry and bring us your idea. Tell us about your loved one, what makes them unlike anyone else, what you want the gift you're giving to tell them, as well as your budget.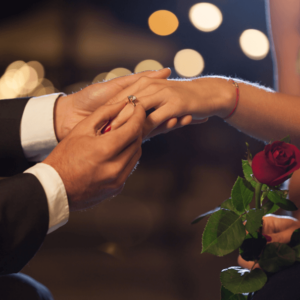 We'll create the sort of one-of-a-kind piece that goes beyond what words alone cannot accomplish, whether you're hoping to ask a very important question this holiday season and are in need of the perfect engagement ring, want to bring an old piece to life, or create something that is just unique. Bring your idea to Maxon Fine Jewelry, and we'll do the rest.
For holiday gift giving, the sooner you bring us your custom jewelry idea, the better, so it's here in time for the big day!