You've spent your whole life waiting to meet "the one"—now it's time to ask the forever question.
Knowing you've met the person you wish to spend the rest of your life with comes with the sort of joy that writers, poets, and musicians have dedicated entire careers trying to capture in word-form. What these wordsmiths often glaze over, though, is the stress that comes with the search for a ring. No, not a ring. The ring. The perfect diamond engagement ring that cinches the "yes" you want when you pop the question. The ring needs to be many things, but most importantly, an embodiment of your feelings for your special someone.
It's not hard to see why the search is stressful.
At Maxon Fine Jewelry, we believe the pressure of perfectionism shouldn't hinder the excitement of the journey to find the perfect ring. It brings us great joy to help people find the ring that expresses their desire to spend their lives with someone. We are here to help you embrace the experience, alleviate your stress and help find the ideal engagement ring for the person you love.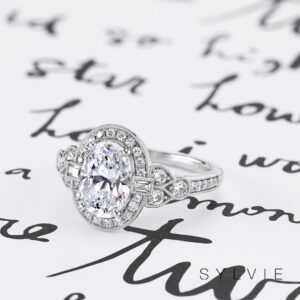 You've been listening to the subtle cues, making note of style hints, conducting covert online searches, and getting advice from friends. Maybe the vision for your perfect ring is crystal clear. Often, though, you are starting from scratch—that's where Maxon comes in.
We have countless styles, vintage and modern alike. And if you can't find a design that speaks to you, visit our custom studio and tell us exactly what your engagement ring needs to say. All designer rings can be customized in platinum or any color of gold, and made to compliment diamonds of all shapes and sizes. We can remount family stones, and if a stock ring isn't available, our custom design team can bring your vision to life. We can complete special orders in just four weeks, and we provide detailed CAD images for customer approval. No matter your style, we're certain you'll find the engagement ring of your dreams.
As Springfield's premier diamond merchant, Maxon Fine Jewelry is proud to carry brands like Sylvie, Verragio, Frederic Sage, Crown Ring, and more. We offer a variety of shapes, such as the princess cut, cushion cut, classic solitaire, and halo rings. Whether you want a simple engagement ring or something extravagant, we'll point you in the right direction. We want to know all about your romance, and what makes your person "the one."
Your engagement is a big deal. We're just one stop on your journey to a lifetime of love and companionship. And do let us know how the proposal went—we love our Happily-Ever-Afters.
Remember, the most important thing about an engagement ring is that it came from you. Begin the next chapter of your love story with a Maxon moment.