The first fall trunk show of 2019 is in the books! We hosted Jewels By Star for a 2 day special event. A representative brought in one of a kind, jaw dropping pieces for our customers' (and employees') viewing pleasure.
Employee favorites included the 'Twogether' collection (pictured) and the Paraiba Tourmaline ring (pictured) which is one of the most rare gemstones currently available on the market – breathtaking!
Our Jewels By Stars representative charmed his way into the hearts of our Maxon team, with his humor that was unique as the gemstones he shows, and detailing exactly how special each piece was. The highlight of the Trunk Show was an after-hours cocktail party in which guests left full, thanks to Gilardi's; sparkly, thanks to JB Star; and bubbly, thanks to Brown Derby.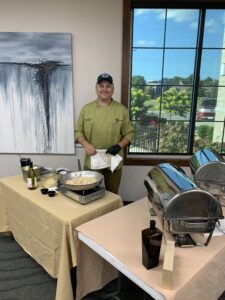 We will have several more opportunities for you to see special pieces in store for a limited time at our upcoming Fall Trunk Shows, sign up for our emails to be notified of exclusive events and promotions!
Thank you all who came to this Trunk Show! As well as to Jewels by Star, Gilardi's, The Maxon Team, and Brown Derby.